Analysis Output

The Analysis results are available from the Analyses menu in the My Data tab. Select the analysis name to view the results.

Figure 3   Output Navigation Bar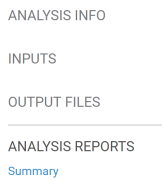 When analysis is complete, access the output through the left navigation bar.
u

Analysis Info

—Information about the analysis session, including log files.
u

Inputs

—Lists the samples and settings specified for the analysis session.
u

Output Files

—Output files for the sample.
u

Analysis Reports

—Analysis metrics for each sample. Aggregated analysis metrics are shown when multiple samples are analyzed.
BaseSpace DNA Amplicon v2.0 App Online Help
For Research Use Only. Not for use in diagnostic procedures.